Chapter 6
- 2002 -
I spat the length of the pitcher's mound as I adjusted my cap, wiping my hand against the hem of my uniform, fixing my gaze towards home plate.
It had been a reasonable spit; one with enough substance and velocity to show the batter I was a force to be reckoned with. Not too big a spit, though –– not the kind you have to spend time working up only to have it scatter in the air or spill out on your lip like a baby.
I came set. My fingertips explored the inside of my mitt like new territory. It was like new every time, though, resetting in between every pitch. Throwing a pitch was like writing a song: you can make it through one or even a hundred and still wonder whether you might make it through another. 
I considered the leather and red laces through a fresh coat of dirt and sweat. They were the lovers I aimed to please. They were the wild horses I hoped to tame to my service.
My heels pulsed on the pitching rubber. Deep breath. This was the semi-final game. Two strikes, no balls, nothing to lose.
And then the sign. I narrowed my eyes on Clay –– the team anchor –– squatted down there behind home plate, his glove extended and ready for the pitch. Just as if he'd done it a thousand times before, he reached down and extended four fingers towards the earth. I held back a smile. That kid could read my mind.
My heart buzzed, nervous and excited. I dug my knuckles into the ball concealed in my glove until I knew they were right, and got the feeling that somewhere near the outfield fence, Dad knew. He was no doubt sitting out there in his stadium chair with Mom whispering, "don't throw it…don't throw it…" But I didn't care. And neither did Clay. We were real players; we made our own decisions.
Besides, I'd been practicing this pitch for weeks.
After another deep breath and a long stride off the rubber, everything turned to slow motion.
The world watched as I released the first knuckleball I'd ever thrown in a tournament game. Concentrating, praying to some god of good fortune for this single moment of success, I finished my motion and awaited the verdict…
And then there they were — those ruby laces in perfectly suspended motion, pleased, tamed, zipping like a hummingbird towards home plate.
Most everything seemed right about the world that summer before eighth grade.
After our state championship win and other successes on the baseball diamond in the years leading up to middle school, our parents decided that our group, and our group specifically, had something rare and special. If groomed right, they thought, perhaps we could go on to win more state titles in high school, or play college ball, or even stand a chance at the pros. 
So we set out to find better competition. And in order to do that, we had to do some traveling.
A new team formed: Big R. We enrolled in new leagues and began practices long before the weather warmed up enough to go outside. Just to see what might happen, we signed up for a season full of tournaments –– as many as we could afford to play in. 
And to most our surprise, we started winning. A lot.
One rival of ours — a team from Fort Collins — used to interrogate us about our ages, thinking we'd forged our birth certificates to play in a younger league. None of us had, of course. The truth was, most of our players were nearly too young to play in the league.
The Fort Collins Tigers admitted that they drew from a pool of three hundred young players during their tryouts, and then whittled that number down to fifteen. We never held tryouts; we only had just enough players to field a team, but we beat Fort Collins in every tournament we played them in, often by more than ten runs.
There seemed to be something unexplainable about the way we won. Sure, we had a little talent, coupled with a deep desire to win, but other teams had all those things as well. The difference, I think, was our connection: we were brothers. We understood each other.
When Jason got a grounder at shortstop, he understood just the manner in which Taylor would slink to second base to turn the double play. Dylan could read when to steal on a sacrifice bunt like a psychic, depending on who the bunter was. And Clay was an expert in his own right, knowing exactly how on a two-strike count, with two outs in the inning, I would want to try a pitch I'd never even thrown in a game before. And he knew it would work.
The knuckler floated like a ghost into Clay's glove; the batter stood no chance. Strike three.
Applause and cheers rang out from the crowd and from my teammates. It wasn't every day a twelve-year-old threw a knuckleball successfully. Somewhere out by the foul line, Dad must have been eating crow with a smile on his face. 
I trotted over to the dugout, enduring excited claps and prods from my teammates. Clay threw his catcher's mask off and smiled.
"Nice throw, kid," he said.
Clay always called his teammates kid, and especially his friends, even if they were older than him. Eventually the rest of the team started using the term as well — not to impose any kind of superiority, no, but to express a rare sort of kinship that had begun to form from spending so many months together on the road, in hotel rooms, and on the field. 
I pitched until the fifth inning, and then returned to center field while Shane closed the game out. He threw submarine. With only two innings left of play, the other batters had no time to adjust to his unique form. The game was as good as won. 
I staked out on a patch of grass in the middle of the outfield and glanced at the crisp blue skies above Steamboat Springs. That summer found me at one of the pinnacles of life. 
Although I still swam under the lingering darkness of Alexia's introduction to Wicca the previous school year, I could feel myself pushing against something bigger. By the end of that summer, I would not only have a collection of team baseball trophies to tell stories about, but I would also begin for the first time to identify myself as a follower of a man called Jesus — a hero I saw once in a movie. I hadn't really talked to Ashleigh yet. And I had only stepped foot inside First Baptist Church a few times, but things were changing.
I yelled some words of encouragement to Shane as we neared the end of the last inning of that semi-final game. This was it: one out, runner on third, up by only one run.
"Here we go two-one, throw it in there, sit-'em-down-now-kid!"
I used to think that if I said the right combination of words in the right order, and said enough of them, I could make the pitcher throw better, like a prayer or mantra or something. 
It didn't really help in this case.
The batter adjusted, stepped, swung, and connected –– well. The ball flew in a straight line over the heads of the infielders and headed my direction.
In the seconds between the ball hitting the bat and then hitting my glove, the situation whirred around like a slot machine in my head. One out, runner on third, up by only one run.
The runner would tag up — I didn't see it, but I knew it. Concentrating all my energy on the approaching bullet, I extended my glove skyward. My throwing arm felt sore and heavy from pitching all game, but I couldn't afford to baby it now. I snatched the ball out of the air, took a quick crow hop, and released it back to where it came from.
The race had started: after my catch, the runner on third made a break for home plate, throwing up dust as he went. My ball sailed in right over the pitcher's mound, fast and low.
Clay squatted. I could almost see the amusement on his face from the outfield; the throw ended up a perfect strike — my very last pitch of the game. He caught it and put the tag on just in time to snag the runner in his slide. Three outs.
I bounded across the field like a gazelle, meeting Jason, Josh, Taylor, and then the rest in electrified celebration. Like so many other times that summer, we were headed to the championship game, scheduled to take place on Father's Day. We would win it.
I gave Clay a high-five when I reached home plate.
"Nice catch, kid," I told him.
"That was your best pitch all game!"
We laughed and cheered and celebrated more. We were real players.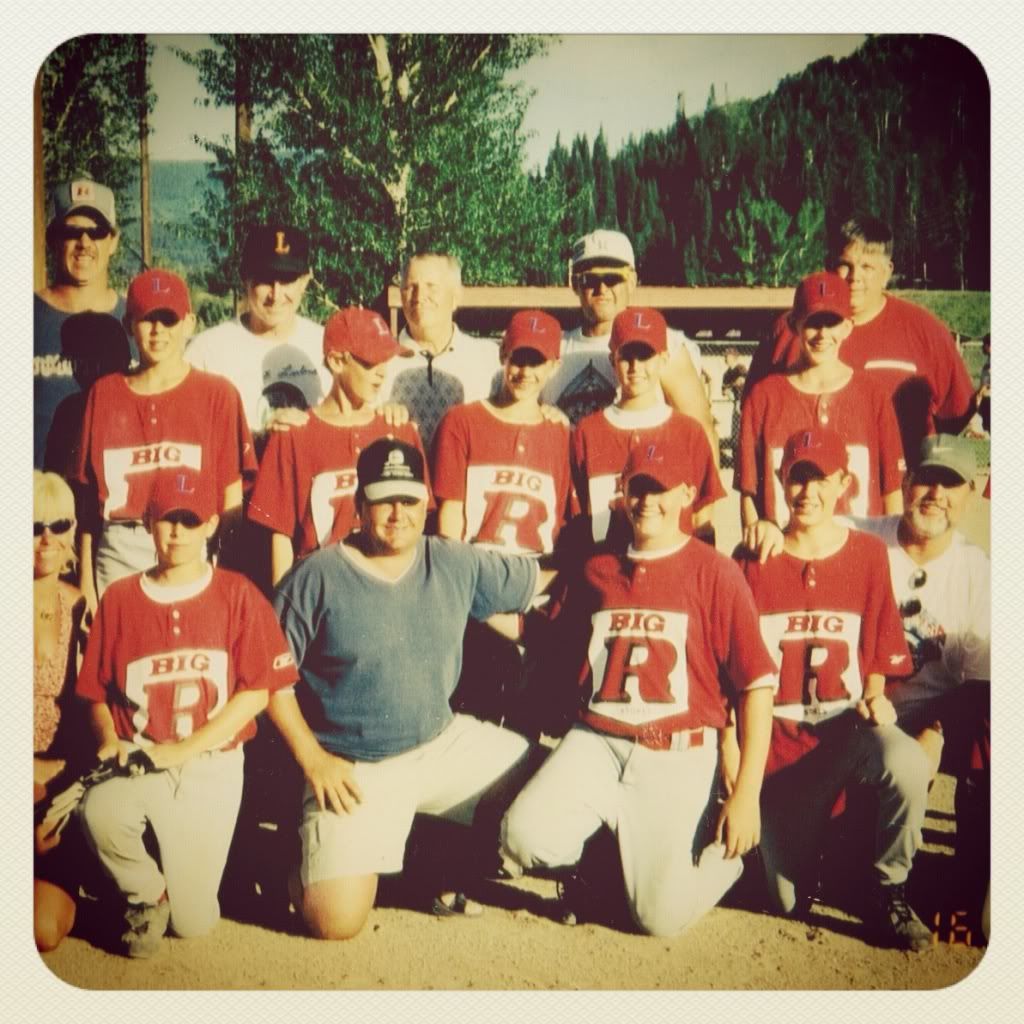 ◊◊◊◊◊◊◊◊◊◊◊◊◊◊◊◊◊◊◊◊◊◊◊◊◊◊◊◊◊◊◊◊◊◊◊◊◊◊◊◊◊◊◊◊◊◊◊◊◊◊◊◊◊◊◊◊◊◊◊◊◊
- 2003 -
The next year Clay moved to a different team.
He ended his career as catcher for Big R and, what's more, began playing for one of our rivals from a neighboring town — a group called the River Rats, whom we wouldn't have even considered competition if their home base hadn't been so close to ours. 
We didn't understand it. Clay's move caused a good deal of anger and confusion amongst us all. We would ask him about it in the halls at school, but he would usually avert any questions. I don't think he liked talking about it all that much. I think he might have felt like a traitor.
He told me once it wasn't completely his choice; there had always been some major disagreements between Clay's father and our coach, Larry, about how the team should have been run, and they weren't a secret to anyone. None of us thought that it might eventually split the team apart. Maybe we were naïve. We were just kids, I guess.
But whosever decision it was, Big R found itself in a bit of a predicament: we had to make some major adjustments before we could compete in the same league without a catcher who had, in many ways, been the glue that kept us together.
So without many other options, I began training to take his place.
In a way, that was what I had always wanted: to be a real player, like Clay. As catcher, I could take on a new role as a leader of the team, calling pitches, shouting out directions to the team. I'd always looked up to Clay for his ability to do these things. Since he was going to spend a season somewhere else, I decided to take the opportunity to grow in a position that afforded plenty of growing room. It could only make me a better player in the end, I thought. And that would only benefit us all once high school came around — that was really what we were all doing this for, anyway.
We came out just as strong as ever, winning numerous tournaments, earning just as many titles. We even outdid ourselves at the national tournament, placing third.
It wasn't until later in the season that the inevitable happened: we found ourselves slated to play against The River Rats. I don't think we handled it well. We all made fun of the team's name, and we'd taunt Clay whenever we'd run into him too. But I think that was only to cover up our own woundedness. I guess sometimes we can even use laughter to hurt ourselves; it hides our bitterness so well, it's scary. 
Getting bent up about Clay leaving might have been silly. He was only playing on another team, after all — nothing terribly serious. But for some reason, it felt a whole lot more like losing a family member, for us all.
The game began with a sense of dread. I had certainly never before felt more self-conscious in Clay's former position, with him watching. I'd imagine him on deck or in the dugout, quietly critiquing my technique, seeing if he might have any competition in our approaching high school careers.
Eventually, at one of his last at bats, I couldn't handle the tension any longer. Quietly, so the umpire couldn't hear, I waited until Clay stepped into the batter's box and whispered to him.
"You should be back here. Not me," I said.
I meant it as a compliment, but he looked hurt. Despite his usually fierce composure on the field, Clay had an extremely tender heart.
He didn't answer. Jordan threw the first pitch. Ball.
"Hey Blake," he whispered.
I tossed the ball back. "Huh?"
"You should tell Joro to throw it right down the cock."
I thought about this for a second, glancing up at the scoreboard. They were already hopelessly behind.
"If I do," I said, "you're gonna have to hit it out of the park."
He nodded. "Deal… How do I know you'll call it?"
"Take one if you don't believe me."
So I called a fastball and Clay watched it go by right down the middle. One and one. A smile played at the corner of his mouth.
Once he settled into the batter's box again, I gave Jordan the signal to serve another one up. I got the feeling he knew what we were up to, and silently resigned. 
Clay was ready this time; this was his home-run derby. The ball came in perfectly and his hands flew forward like lightning, connecting perfectly, sending the ball tearing through the skies with a satisfying aluminum ping.
The bat dropped. I stood up and shielded my eyes, managing a chuckle. Clay started towards first in the kind of slow run you do when you know it's gone and my usual orders to get under the ball or throw to second got caught in my throat as I watched it sail towards the left field fence, right into the setting sun. Clay knew it, and I knew it: he'd kept his end of the deal.
But out in left field, Josh kept running. I squinted harder.
No way. 
Josh was known for spectacular catches, but this one — Clay had absolutely roped this one. I stood hopelessly captivated with the rest of the team, watching in silence and awe.
Clay rounded first. 
Still, Josh hurried back, back, past the grass onto the warning track. To everyone's surprised, the ball fell early from the sky and Josh dove into a cloud of red dust. 
All went quiet.
Finally Josh emerged near the back fence with his glove raised in the air, closed tight around what should have been the home run ball. It had been one of his most spectacular catches yet.
I couldn't wipe the grin from my face as Clay jogged back towards the dugout, taking a detour up the first base line just to talk to me above the cheers from the crowd.
"Well, shit Josh," he mumbled as he passed. 
I chuckled. "I tried, man. Did everything I could!" 
"Aw, it's not your fault, kid." 
He bent, picked up his bat and knocked it against his cleats to clear away the dust. I wasn't sure if home plate was the right place to say such a thing, but before the next batter came up, I told him I would like things a lot better in a year, when we'd be on the same team again. He smiled.
"Me too," he said, and returned to the dugout. It would be the last game I'd get to play with him.