Chapter 17
- 2011 -
The story of my time living with Tim and Jared started when Jared's dog peed on the couch. 
Boston, the 10-pound rat terrier, ruled the White House with a secret fury. Stalking through hallways, burrowing under blankets, the dog gained himself a rather illusive and bitter reputation among the tenants. Word was, if you drew close enough to smell his breath, all was over. The rank, as Tim described it, was something worse, but not unlike, the smell of a dozen dead moldy crickets.
New residents of the White House usually experienced Boston's wrath the hard way; within the first few nights of moving their things in, they were likely to find little smelly messages here or there among their belongings. The messages went something like, "I'm watching you," or, "Just so you know, this is really all mine."
So naturally, when the new couch came, it didn't stand much a chance. Boston wasted no time or bodily fluid. Luckily, it was made of leather and not terribly hard to clean.
But that had been the dog's last hurrah; it had come time for Boston to learn, or to leave.
So Jared began looking for other places to live, and I joined him. I figured a roommate with a halitosis chihuahua was better than no roommate at all. And what's more, Jared was one of the closest friends I'd ever had; it made no sense not to want to live together.
Our search didn't last long. A three-bedroom house not a block from the White House providentially went up for rent around the same time. After only about a week's worth of negotiations, we signed a new lease together. We dubbed the new house "The Parliament."
Thus Boston's reign at the White House came to an end, and for the benefit of all. I ended the lease at my one-bedroom apartment.
Just before our move-in date, Jared, Tim, and I took a weekend trip to Texas for the Austin City Limits music festival. As a permanent monument to our friendship and unique senses of humor, we woke up one morning and got matching mustache tattoos on our fingers.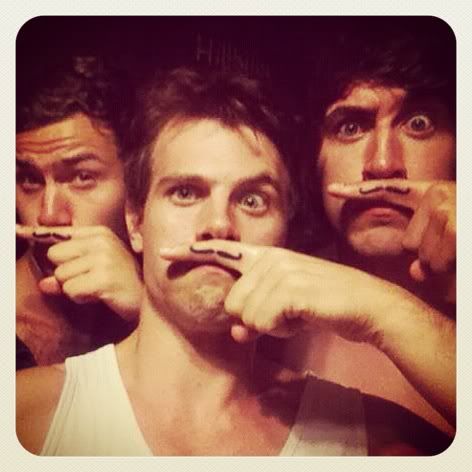 Now we always have disguises on-hand. (Get it?)
We returned to Tim's mom's house that Saturday night after the concert. Tim and I needed a bit of time on the back porch to run to through the Recovery packet questions before turning in. Once we concluded, I asked him about the Parliament.
The house had three bedrooms; we had three mustaches. It seemed to make perfect sense to me that three best friends should move in together if they were afforded an opportunity to.
"Do you think you'll wait until the end of your lease at the White House, or move in sooner?" I asked him.
I remember a strange fear –– a secret hesitancy –– flash across his face as he sat there on the porch chair, feet propped up on the table where his mother's Black and Milds lay. He didn't answer for a while. His silence unsettled me.
"Do you … think you will move in?"
"I think so," he answered, becoming stoic once again. "I mean, probably. I still need to pray about it, I guess."
"Yeah, definitely."
He said he didn't want to discuss it much further. Words like that were usually all it took for me to spiral downwards. The divorce had planted deep seeds in me; against my own failing will otherwise, I took every opportunity possible to believe that I'd done something to push a friend out of my life.
And when depression came on, I couldn't see the world but through blurry vision. Small, inconsequential events or decisions looked suddenly like life-altering crises. Subtle turns of phrase or eyebrow raises –– and nothing more –– became reasons to suspect treachery in my friends. 
And treachery was what I deserved, right? That's what I came to believe, and that never helps a person's suspicions. When I looked at the good things I had, I saw time bombs. When I looked in the mirror, a lit fuse.
Feeling a strangled sense of desperation, I continued to inquire passively about Tim's decision to move in for the remainder of the month. He finally agreed to, though not without what seemed like reservations. 
Lost in my own muddy mind, dominated by a fear of abandonment, I couldn't understand his disquiet. I couldn't see the person Tim saw when he looked at me: a sad man rather like an old bumper sticker, having been peeled away from the thing it had always planned on sticking to –– the thing it had given up its precious backing for –– and found itself a sticky mess afterwards, clinging to anything else that might come close. 
Maybe he saw then a vision of Boston, unwilling to be noticed as he skirted around those he felt threatened by, marking and claiming things that weren't really his to claim. Why? Because he couldn't stand the thought of having nothing.
◊◊◊◊◊◊◊◊◊◊◊◊◊◊◊◊◊◊◊◊◊◊◊◊◊◊◊◊◊◊◊◊◊◊◊◊◊◊◊◊◊◊◊◊◊◊◊◊◊◊◊◊◊◊◊◊◊◊◊◊◊
    - 2008 -
I awoke from a dream the morning of August 31st feeling as if i'd just been plunged into some foreign reality. It was a Sunday, in 2008, and before Ashleigh, Troy, and I went off to church, I wrote the dream down, unable to shake the strangeness of it.
I'd found myself sitting at a white table in a white room, filled with all white things –– chairs, shelves, rugs. Light shone in from a row of vertical windows to my right, but made no shadows upon the objects around me; they seemed to have a sort of light of their own.
The only colors I could find in the whole space were on pieces of large construction paper laid out on the table before me. Although I could tell that they were pieces of paper, they looked uncomfortably like human skin –– with pores and wrinkles and hairs. There was an array of different pigmentation and skin tones side by side in a large grid, and above that, I found two white cups filled with small wooden sticks.
It wasn't until after I noticed all this that I became aware of the Instructor. I couldn't see him –– but I could feel him there, behind me where I sat. I knew I mustn't look at him, so I studied the squares of skin-paper in front of me, wondering what to do.
And then, driven out of some far-off inherent knowledge I'd kept in the back of my mind as long as I'd lived, I set to work. 
I pulled one stick out of one of the white cups and examined it. 
Tiny letters had been engraved in its side: Martinez.
I laid the stick down on a particularly pasty piece of paper in the top right corner of the grid. The engraved name disappeared.
I drew another: Smith.
My immediate reaction was to place this stick on a piece of paper that seemed to fit –– a lighter skin tone, one like my own. But those were not my instructions. I went to the top again, and laid it down on the piece of paper to the right of the top-left. The name disappeared.
In this manner, going from top down, left to right on the grid of skin-paper, I began to empty the cups of their sticks, regardless whether the names seemed to match the skin tones. People were getting all mixed up, I knew. They were losing identities and finding new ones.
It wasn't until I drew a stick and read a familiar name that I paused.
Kurtz. 
As in Josh Kurtz, one of my best friends. I was about to change his life forever.
Questions sprang to life in me: This thing that I'm doing…is it really right?
At last the Instructor behind me spoke in a voice that shook chest like a rock concert. 
"Don't doubt, Blake. This is the only way to bring peace to the world."
Upon waking, I laid under the covers for a while, trying to shake a certain panic I'd fought hard to weed out of my life over the years. The dream had been mysterious and interesting, no doubt, but it had also taken me over. It had left no room for influence. And I didn't like that.
When I was very young, I would wake from nightmares often. It didn't help having an over-active imagination. 
So, starting in elementary school, I began learning how to take control of bad dreams. The process, known as lucid dreaming, took me consistently into a state of sleep where I could remain completely aware that I was, in fact, dreaming. What's more, I began to monitor the things I dreamed. If a man ran up to me with a gun, I would change it into a stuffed animal. If I found myself in a black pit, I would conjure a light.
By the time I made it to high school, nothing could happen in my dream life that I didn't want to happen. I'd become king of my subconscious.
But the dream about the white room had been different. I hadn't picked up on my dream state at all. I woke up shaken, feeling that I'd lost the reigns on reality for a brief time. It legitimately scared me.
After all, if I couldn't stay in control of my dreams, was it possible that I wasn't really in control of other areas of my life as well –– my finances, my goals and ambitions, my relationships? My wife?
It was possible. I did learn, finally, that I hadn't ever in control of those things. Ashleigh, outside of any control I thought I had, left in June 2011. I haven't been able to lucid dream since.