Chapter 19
- 2011 -
A sense of dread fell on me as I stretched out on top of my bed Christmas Eve. Unable to help myself, I studied the nooks and crannies of my room, reeling in my eager (and frankly, rather pessimistic) imagination.
I let out a long breath. The air seemed too thick, the covers too hot, the room too cold –– the night too long. I'd hardly been able to sleep at all after arriving in Lamar the night before. I didn't expect tonight to be much easier.
I'd known it would happen, though. Ever since Ashleigh had left, sleeping had become a consistent worry. Old shadows haunted my dreams and unsettled me in the night. Sudden fears lingered in darkness. Unable to regain control of my dream life, I would often wake up from nightmares of hideous faces and figures –– something that hadn't happened to me since adolescence.
Of course, staying in my old room only seemed to amplify it. It was the same room that had always terrified me, after all, where I used to lay out pentagrams and hide in alarm from the phantoms in my mind, as well as the ones outside.
Even so, I'd learned long ago to sleep in relative peace –– without keeping a light on or the television going. Before I climbed into bed on the 24th however, I wanted more than anything to hit the power button on the remote control. I even picked it up and played with it in my hands.
No, I told myself. You've got nothing to be scared of. You're fine.
I turned the lights off and crawled slowly underneath the covers, feeling like some foolish kid afraid of the dark.
I found myself praying. It wasn't a long prayer –– just enough to ask for protection while I slept and that I'd grow a pair. I mumbled amen and closed my eyes.
Some indiscernible time passed before I became aware of myself again, lying in the same bed in the same manner as always. I was asleep, however; I could tell I was in much the same way I used to be able to know a dream while dreaming it. This one was stranger though, and as vivid as reality. I'd crossed no noticeable barrier into the sleeping world. I wasn't even sure at what moment I actually dozed off.
It didn't take me long to notice a striking difference, though: a man now stood beside my bed, slouching in such a way that nearly concealed his form in the darkness. A shock went through me. I couldn't move, couldn't look away from him. His presence demanded attention.
He stood still and tall. His short fire-red hair trailed down into a sharp beard that lined his square face. A kind of light came from him –– one that allowed me to see him plainly, but failed to cast any light into the rest of the room. All else remained dark. A slight smile or a slight frown was always hinting at the corners of his mouth, though I could hardly ever tell which.
And after a moment, I recognized him: it was the same face from my dreams. The nature of his very presence, although dreadful, was one of familiarity. I'd no doubt felt him before, following me around in dark corners since those nights Alexia had lost herself next door.
He stared at me, a kind of fiery malice in his eyes. I felt bare underneath their scrutinizing gaze; I couldn't hold them for long, so I went back over the words I'd just prayed before falling asleep. I'm not sure how long I remained there in silence.
"I'm here to hurt you," he said finally. His voice was clear and deep, and the threat upon it heavy.
"You won't." I replied.
"Why wouldn't I?"
"God is protecting me."
A definite smile snaked across his mouth. "That is a lie."
"Do it, then."
The smile stopped. Perhaps in hesitation, he lingered a moment and then inched forward, extending his arms towards me with a strange robotic look on his face –– as if he'd just gone mindless, compelled instinctually towards some prize he'd long waited to have. He reached the edge of the bed and stopped. Moments passed.
"You can't hurt me." I repeated.
His hands returned to his sides. He smirked.
"That's what the Jews said during the Holocaust. I know, I was there. Were they protected?"
I didn't answer. Unsure how best to engage the question, I looked away.
"You're a failure," the man said.
Something in me said, I know.
When I looked back at him, I noticed that he'd taken something up in both of his hands. In one, he had what looked like a ruler or yard stick, and in the other he held aloft a set of scales. Both objects were black and swam in his hands as if made of shadow, though many sharp angles stuck out from them here and there. It occurred to me while observing how he held them that the man could somehow wield these objects as weapons, and had done so on others before.
He continued to rattle off faults of mine: "You couldn't love your wife well. You knew how horrible divorce was and you did nothing to stop it. Who would love you? You lied. You said nasty things. You looked at porn…"
The man went on, still holding those terrible weapons, spouting out a list that seemed to go on for eternity. I said nothing until at last he ended, having gone through every mistake I'd known, and every regret in turn.
I breathed.
"You're right," I remember saying. "I did all that. I'm that bad. Jesus died for me anyway."
The man dropped his hands and the objects disappeared. Apparently he didn't seem to want to go there.
"As soon as I'm allowed, I will tear you apart."
"No you won't. God is with me."
"So you say. Was your god with Job when we tore him apart? Didn't your god allow that to happen?"
Again, I couldn't answer. Instead, I focused my energy on staying calm.
Then the man reached down, finally crossing over the threshold of the bed, and took hold of the corner of the covers. He tugged and they all came off.
I remained there in my underwear, still and on the surface of my bed, lying bare underneath those piercing eyes. Still, somehow, I managed to gather my courage.
"I'm going to be fine," I said aloud, more for my own morale than anything. "In the end, it's all going to be fine. Even if you are able to hurt me right now, you won't be able to forever."
He didn't reply.
"Did you know," I continued, feeling a fight growing inside me, "you're gonna be thrown into a lake of fire? I'm gonna be fine. You're not."
The man remained at my bedside for a few more moments, covers clenched tight in his hands. Then at last, he dropped them and turned away towards my bedroom door, shaking his head. Before opening it, he looked at me again, his pupils dancing with hatred. "Because of you, I will hurt your family."
Then he was gone.
I awoke immediately. Holding my breath, scanning the room, I found everything dark and silent again. The bedclothes –– thank goodness –– still lay on top of me, just like they had before I'd fallen asleep. I listened closely for any other creak or sign of distress from my room or the rest of the house. Nothing.
Despite the strangeness of the dream, I felt no lingering fear from it. I got up at once, wrote down everything that had happened, said another quick prayer and dozed off again. I slept soundly in my own bed afterwards.
◊◊◊◊◊◊◊◊◊◊◊◊◊◊◊◊◊◊◊◊◊◊◊◊◊◊◊◊◊◊◊◊◊◊◊◊◊◊◊◊◊◊◊◊◊◊◊◊◊◊◊◊◊◊◊◊◊◊◊◊◊
- 2012 -
It had been a while since I'd looked at the stars. I mean really looked at them.
Back in Colorado, we have a lot of stars. The sky out there still remains, for the most part, unpolluted by light or smog. It's just a five-minute walk from my parents' front door to the Milky Way, give or take a few seconds.
But the years in Nashville had concealed the constellations from me. I guess I'd grown to forget their message after a while, until now.
Staring up at the sparkling heavens through folds in our 8-person tent, I breathed in the cool night breeze and found my mind at peace for the first time in a week.
What a week it had been…
At the dawn of the new summer, Yours Truly set out on tour once again, retracing its course from the previous year and tacking on even more shows throughout new parts the midwest. I joined them again, this time as a member of the band.
We took north out of Nashville, hitting Indiana, Chicago, St. Louis, and Louisville before playing some shows out in Colorado and then Texas. The schedule we ended up with was solid, and the venues were amazing. But most of all, the opportunities we got to play our music together –– the medium we used to connect to each other and to our listeners –– was remarkably inspiring. I'll spend the rest of my life feeling privileged to have been a part of something so uniquely life-changing.
And yet despite this, waves of depression came rolled over early on during our time on the road and refused to loose its grip on me.
I spent most of my time trying to figure it out, trying to diffuse it like a time bomb deep inside me. Tim and Jared tried to be encouraging but grew understandably frustrated.
Maybe it seemed too eerily similar to what had happened the previous year on tour, just before losing Ashleigh. Maybe it came on because of new insecurities that left me feeling that I didn't fit in with a group of pop/rockers. And maybe other things could have contributed to it –– deep, dark things I wasn't even aware of.
In the end, I never arrived at any conclusion; I never do. I just felt alone. It's strange and scary how alone you can feel in a van with seven other dudes. Keeping to myself, I spent most of my time in survival mode, content to simply ride it out until it faded.
We set out from Colorado and rolled into Lubbock, Texas, about halfway through our trip. Having a few free days before us, we decided to find a campground to stay the night in rather than pay for a motel.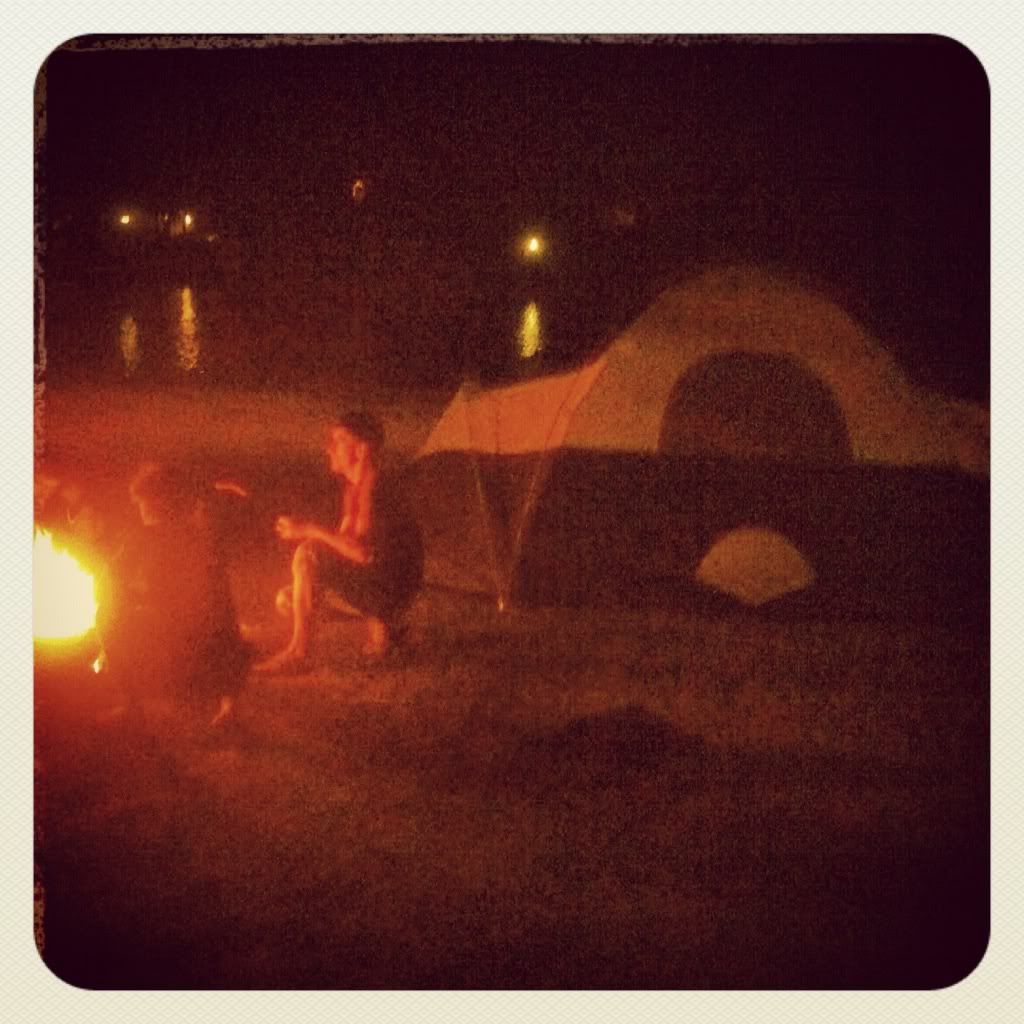 And despite the growing gloom inside me, once we set up our beds underneath the stars –– as bright and clear as the ones back home –– I felt the darkness clearing. Even after everyone else fell asleep, I stayed up to stare at them.
What worlds laid out there in that expanse? I felt all at once that if gravity could reverse, I might go crashing through the dazzling universe, from inner rings to outer rings and beyond.
Just days before, we'd all had a conversation about the stars in the van, after a show. We'd marveled at how many there were: how could there be so many? Thousands of stars shone before our naked eyes then, and thousands more in telescopes, and perhaps many millions more even outside of human knowledge. What are humans in a place so vast? Could we dare to think that we might be alone in it? What is the purpose of the stars?
Laying underneath that light canopy on the riverbanks in Lubbock, I smiled at the stars, and couldn't help but remember a character I'd heard from a story. The man's name, at the time, was Abram.
From what's been told, God once commanded Abram to look at the stars –– perhaps the very same constellations I found myself gazing upon now. The Creator of the stars told that man to look at them as a reminder to him and his children that God would never leave them. It was a promise. And like all of God's promises, the one about the stars included more width and depth and height than Abram could have possibly imagined then.
But we're knowing it better all the time; as years passed, we discovered more stars. The promise kept growing, at least for us.
We found ways to reach far out into the cosmos, to see things no human eye had ever seen before. And eventually we found so vast a discovery that it seemed almost silly that God would have created so much wasted, uninhabited space.
It is, of course, not wasted. He made the stars (both explored and unexplored) for a reason –– perhaps not to confuse us or give us little puzzles to solve, but to allow us an opportunity to explore the far reaches his faithfulness, and see his promises ripening beyond our wildest imaginations. It's his way of whispering to us still, in the midst of our modern devices which are no mystery to him: "I promise, I am with you. I promise."