Chapter 20
- 2011 -
I never learned to skateboard.
Most all of my life, I've been able to excel at just about any physical activity I tried. I've always been able to learn quickly, pick up the rules easily, and outperform my opponent by whatever means necessary. I'm also extremely competitive, which never hurt.
But once I get a board underneath my feet, I'm not worth much. 
Maybe it's a balance thing, or a confidence thing, or a "feel" thing (though none of those were ever a problem in other sports). Whatever the case, I've rarely been able to keep myself upright on a board of any sort for very long. One year for Christmas I asked for a skateboard. I tried it for hardly longer than a week and put it aside to bike and roller blade, both of which I did pick up naturally.
Other boards were no better. I've had little success at snow boarding, and even less at wake boarding.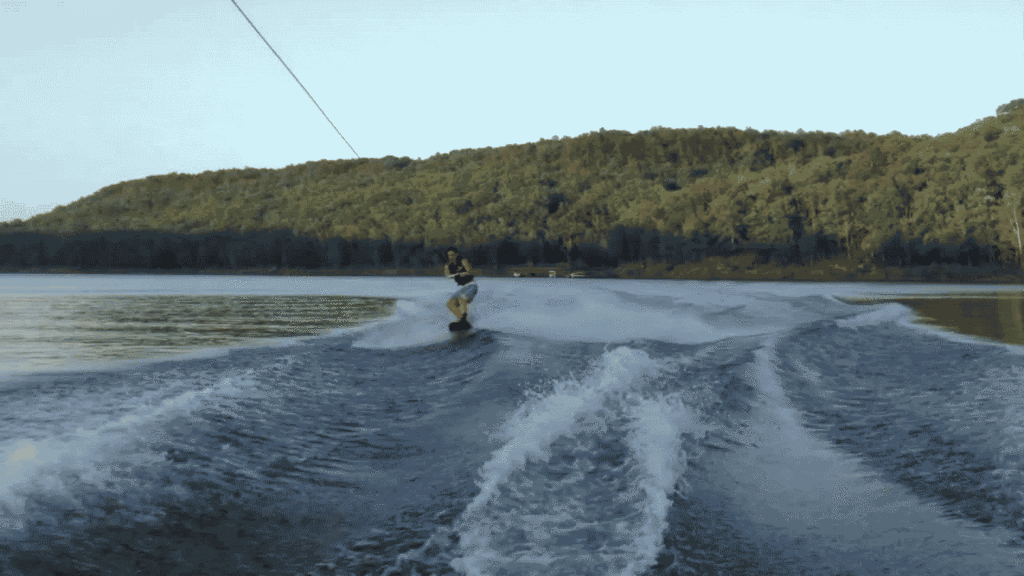 I've grown up with an understandably strong distaste for such sports.
Unfortunately, once Jared and I moved into the Parliament, one of the primary modes of transportation between us and the White House were longboards. And it seemed everyone except me knew how to operate them properly.
So I decided the time had finally come; I fixed all of my resolve on overcoming my chronic board incompetency. Before the end of the year, I was determined to feel at home on one. 
Tim, who had spent most of his life skateboarding (and can even do it on his hands), began to teach me.
"Get a wider stance," he'd say. "Bend your knees a little. Stay loose."
We started on the smaller hills in the neighborhood until I was comfortable enough to go down them without reservation. Then we found longer ones to ride. And at last, we moved on to an even larger one.
The Parliament itself lay at the bottom of a rather steep hill that took a good amount of skill to navigate. Going down straight was easy, but in order to reach the driveway of our house, the rider needed to take a sharp left turn at the bottom of Parliament Hill, in between a guard rail on one side of the street, and our front lawn on the other.
Tim had no problem making it the first time. Even after many attempts, I couldn't manage it. I'd reach the bottom of the hill and have to jump off into the yard, landing in a heavy run across the grass until I slowed down enough to go retrieve the board. But even so, I'd get a little better each time; I'd make the turn just a little wider.
"I think I'm starting to get the hang of it," I told Tim after an afternoon of practice. He grinned, amused.
"Yeah, not bad," he said, bouncing his board up in down with a kind of ease I could never imitate. "You won't really learn until you crash once, though."
"Why?"
"It takes falling off before you really know how to stay on."
I laughed. "Okay, we'll see."
Determined, I continued to take the longboard back and forth between houses in the weeks that followed, always running off into the yard while Tim turned gracefully into the driveway. Still, no matter what, I refused to fall. If anyone could learn to ride without falling, I could. 
One night in October, while Jared was out of town, I slept on a couch over at the White House and woke up early the next morning feeling desperately alone, as would happen many mornings during that time. I walked the house quietly, like a ghost, while my friends slept. There, perpetually unsure what to do with myself, I found the longboards by the front door and grabbed one. The neighborhood lay still and cool that morning as I tried to pry the darkness from my heart.
I ran all the calm hills first, just to warm up, and then the longer ones. And after those, I moved at last to Parliament Hill and peered down it. A chill dew glistened upon the blades of grass at the bottom.
I pushed off and took it once, bending around the curve smoother than ever, bailing only at the very last second to avoid the curb. Adrenaline raced through my veins. I snatched the board from the gutter and ran to the top of the hill to try again. 
This time, I ran it, perfectly.
I took the curve into the driveway a few more times just to assure myself that I'd got it down. Exhilarated by my accomplishment, I ventured even further into the neighborhood, on to paved hills we'd never explored before.
Wait till I show them, I thought to myself. I don't need to fall. I didn't even fall once.
The morning wore on triumphantly. Suddenly sure that I'd become an instantaneous longboarding protege, I pedaled to the top of a new hill and threw myself down it, enjoying the chill wind against my face –– the swelling, speeding sensation of victory. The asphalt sped by below. No hill could best me now.
I turned a corner and changed my mind about that one.
A huge hill lay out before me –– bigger by far than any I'd attempted yet –– curving away to the right. It dead ended at the bottom. Into a ditch. That was a problem.
Years of runningback training took hold at once. In a split-second I assessed the situation: shrubs on the right, plan B. Ditch straight ahead and lined with rocks, too wide to jump, too close to avoid: not an option. People working in their flowerbeds beyond: could call for help in emergency, but let's just hope they aren't looking. Trees on the left, and a wide lawn in front, clear and lush save for a small driveway across, but avoidable: that's it.
I made for the lawn, crouching down in some survival tactic I'd never consciously learned. I hit the curb, and like I'd always done at Parliament hill, I landed on my feet in a run. Unfortunately, after such a hill, my longboard had been going a lot faster than I was capable of running.
I took two hopeless steps and landed flat on my face, not missing even an inch of the six-foot-wide concrete driveway I'd been certain to avoid. A rather embarrassing grunt escaped me; I pancaked and skipped like a rock on a pond into the grass on the other side and came still.
The folks tending to their flowers stopped and gaped at me in silence. They didn't really look concerned –– more confused and reproachful.
I quickly retrieved the board and skated off with all haste, and with as much of my former confidence as I could muster. Once around the block and out of sight of the neighbors, I checked my battle wounds.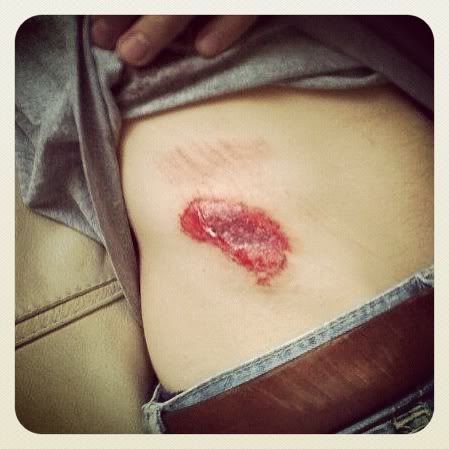 I remember laughing at the sight of it. It suddenly occurred to me that the sorrow I'd woken up with had, for the time being, vanished. I owed most of that to endorphins or adrenaline or whatever, but it still seemed strange that falling, scraping open my side, and embarrassing myself in front of my neighbors could brighten my day so significantly.
I returned to the White House and told everyone how I'd finally mastered Parliament Hill, though not without injury. Everyone laughed when they saw the scar –– which had become a much more worthy trophy than the news of my accomplishment.
"You'll be a better longboarder now," Tim said.
"Yeah," I chuckled, "because I'll know which hill not to go down anymore."
"No, you'll just be better. Trust me."
"Okay," I said. "We'll see."
◊◊◊◊◊◊◊◊◊◊◊◊◊◊◊◊◊◊◊◊◊◊◊◊◊◊◊◊◊◊◊◊◊◊◊◊◊◊◊◊◊◊◊◊◊◊◊◊◊◊◊◊◊◊◊◊◊◊◊◊◊
- 2012 -
"Time alone does not heal all wounds; if it did, we would not need physicians, surgeons, counselors, or psychiatrists. On the contrary, many untreated wounds will fester, become infected and perhaps spread poison throughout our bodies." –– C.S. Lewis
I could tell a thousand stories about depression: how it could set on without warning, how it could suck every bit of ambition right out of you, how it could turn you into a person who suddenly thought and said things –– horrible things –– that strayed so completely from your usual character that you begin to wonder if you're at all the same person as before. I don't have the space to tell them all. They wouldn't be fun to read anyway (and even less fun to write).
Suffice it to say, I began operating like Jekyll, living life in between personality-altering episodes for the remainder of the year. They set on often and unpredictably; there probably wasn't a week that went by that Hyde didn't show his monstrous face. He desperately wanted people around, but he really wasn't a very good hang. That upset him even more.
My friends urged me to seek professional help, but I mostly just made excuses: that I didn't have the money, that I could see improvement so I figured I didn't need it, that I wasn't sure how my parents might take to it. Mostly, I hated the idea that I might simply be able to talk or medicate my problems away. In the end, I did nothing. I trusted that over time, I'd get better.
Come January, Tim moved into the master bedroom. He declared that the walls be painted red, for Gryffindor, so we bought rollers and paint and did it. Finally, all three mustaches lived under one roof.
Still, Hyde stuck around.
By March, we finished recording for my record, which had taken much more time and been a far bigger burden than we'd ever anticipated. But we were happy and proud with our work, and excited about where the project would go from there.
Despite this, I felt Hyde there still.
And even later, after putting off signing the papers for so long, the courts in Lamar finalized the divorce. I was free to let go, and to move on.
But Hyde continued to make frequent appearances, especially if he were left at home for long by himself. I couldn't understand it. He said spiteful things to those closest to him. He dwelt continually on suspicions that his friends might soon kick him to the curb and forget him. And as a result, he turned frantic and clingy. Like that bumper sticker, torn away from the chrome it thought it would spend the rest of its life with, he used the residual adhesive to stick to people he had no business sticking to. Namely, Tim and Jared.
This, of course, caused contention in the house. Too desperately insecure to stay home alone, I'd follow the guys out on their weekend plans and find myself nearly crippled with a strange new social anxiety. We started praying together before every outing that I wouldn't unexpectedly spiral downwards and go sit silently in a corner or something. But even my best behavior was often burdensome. They could rarely enjoy themselves in my presence.
And I doubt it was much fun leaving me at home, either. Once they returned, they most likely found me pouting on the couch, convinced no one wanted me around. The conversation that followed usually went something like this:
Hyde: "I'm depressed."
Tim: "Why?"
Hyde: "I was alone for a really long time. Like, pretty much all day."
Tim: "So?"
Hyde: "So it made me depressed. Are you still my friend?"
Tim: "Of course."
Hyde: "Sorry. I guess it seems like you don't want to hang out."
Tim: "I do. But sometimes you get where you're not very easy to hang out with."
Hyde: "I know that. I have to hang out with me more than you do."
Tim: "But not much more. We don't need to spend all of our time together."
Hyde: "Isn't that what good friends do?"
Tim: "No, that's what wives do. I'm not your wife."
Hyde: "I know."
Having your roommate accuse you of treating him like a wife hurts almost as bad as having your wife accuse you of treating her like a roommate. It seemed I often flew from one extreme to the other after the divorce; it had that general effect on me. My life began swinging the opposite direction.
For instance, the part of my personality that had always been introspective and independent became desperately afraid of abandonment and prone to loneliness. The part that housed my compassion suddenly sought only sympathy. Eyes that refused to cry more than once or twice a year began welling up at the mere mention of something unhappy.
What's more, I stopped thinking for myself. Deferring to anyone else's judgement, I accepted every other wisdom as superior wisdom, no longer willing to trust myself with the smallest of decisions. My old motto echoed louder than ever in my head: you choose.
When March came, Jared took off on a tour across the East Coast and Tim made plans to return to Austin over his Spring Break. That meant I had a week to spend in an empty house, by myself. I asked Tim if I could go with him. He reluctantly agreed.
About two days in and without fail, the monster in me started fussing as we drove to the mall for some running shoes. Tim recognized it immediately; that was another ability I'd lost because of the divorce –– the ability to cover everything up with a smile and a nod.
Tim: "You're not alright, are you?"
Hyde: "No."
Tim: "Something sparked this. There are reasons you go down."
Hyde: "Well, yeah. I feel alone."
Tim: "You're not."
Hyde: "I know I'm not really. And I know even if I was alone, I don't need to feel bad. But I still feel bad."
Tim: "You just need to say the truth to yourself, over and over."
Hyde: "I do. It doesn't help. It's like there's a blockage or a kink somewhere in the line between my head and my heart. I don't think they're talking anymore."
Tim: "I'm sorry."
Hyde: "It's alright."
Tim: "This seems an awful lot like codependence."
Hyde: "I know."
None of my friends were at all equipped to counsel a guy struggling through depression from a recent divorce, and not only that, a guy with the sudden emotional maturity of an infant. After spending twenty-two years burying my emotions, I found myself all at once thrust into a life laid bare by honesty. The time had come at last to learn to function with my feelings. 
That's my journey. It's much like learning to longboard, really. Before, I was determined not to let myself fall –– not to allow room for scrape or injury. But my sport wasn't really longboarding then, it was self-protection. I didn't really start longboarding until I fell down, and learned that falling was an inescapable part of it. 
It was necessary that I fall down. I couldn't learn properly otherwise. 
Living openly with other people meant being willing to let myself get scraped and scarred at times by friends who, like me, can be hurtful and abrasive. It meant learning not to then pick the scabs and nurse bitterness. It meant having the humility to let them get a good look at the wound, and by doing so, help in whatever way possible to mend it, even if only through sentiment.
It's true: you really can't learn to stay on until you fall off a few times.